FAQ
What can we do at the lake?
Green lake, by it's offical name, and is 11 acres in size and about 30 feet deep at the center.
It is stocked with triploid rainbow trout. Catch and release fishing is permitted with barbless flies or lures. No bait fishing is allowed. It's an excellent lake setting for practicing fly fishing. Even though the lake is on private land, you still need a Montana license to fish. Nonresident ages 16 and over. Montana resident ages 13 and over. Licenses are available at 3 locations in town. They can be purchased for two day, four day, ten day or one year.
The lake is also perfect lake for rafting, canoes, kayaks, and stand-up paddleboards. We do allow small boats with electric motors only.
We ask that you use decontamination procedures prior to using fishing boots and waders as well as your watercraft to avoid the spread of non indigenous species.
There is a population of turtles that call the lake home, and if you are lucky you might see one swimming by!
We have a dock and a kiddie pool area for swimming and wading. However, there is no lifeguard on duty. Adults are responsible for the safety of their party.
How close is the nearest lake where we can launch our boat?
Lake Koocanusa is 98 miles long and has a boat launch 5.5 miles from our ranch.
Can we have bonfires?
There are fire pits located by the lake and at the guest house. Nothing beats roasting marshmallows over an open fire under the Montana Big Sky!
Can we have our wedding on your property?
We'd be honored!
Can we bring pets?
Let's talk about it.
Can we bring horses or do you have horses?
We do not have horses available for guests. However we have a fenced pasture with a waterer if you bring yours. Feel free to ride on our property.
Is there RV, trailer, or boat parking available?
Yes. Both the guest house and the apartments have circular driveways to easily accommodate trailers.
Can we RV camp on your property?
Although we have property available to park your trailers, boats, and RVs while you are staying with us, we do not have camping or RV hook ups available.
How close are the nearest grocery stores?
4.9 miles and 6.4 miles
Can we participate in feeding or interact with the buffalo?
Buffalo feeding time is a highlight for most guests. It depends on the time of year how often we feed the buffalo. However, you are invited to ride along and take pictures as we feed. We do have to remember that our buffalo are wild animals. We can not hand feed them or pet them. Most of the time they are not aggressive. When the babies are born they are very protective of their calves. Also during " the rut" in the Fall, the males become more dominant.
Are there hiking trails close by?
We offer great hiking for everyone. We back up to Black Butte Mountain and federal lands. So there are many places to hike on our property and adjacent land.
Can we ride ATVs?
Although we do not allow ATV riding on our property- there are areas to ride less than 2 miles away along the Tobacco River.
Can we hunt on your property?
Our ranch is a sanctuary for local wildlife. There is hunting available on both corners of our property. On the NE side we have state land. On the SW side we have federal land.
Do you have freezer space available for my game and fish?
We do have a local meat processer in town. If you prefer to process your own we have a canning kitchen available and freezer space. Fees will apply.
How close are the nearest ski resorts?
We are centrally located to numerous resorts:
Big Mountain in Whitefish, MT 63 miles 1hour 20 minutes
Turner Mountain in Libby, MT 86 miles 2 hours
Fernie Alpine Resort in Canada 52.2 miles 1 hour 10 minutes
Kimberly Alpine Resort in Canada 91.1 miles 2 hours
Are there areas to ride snow mobiles?
Yes, just a short drive to get there:
Pinkham Creek 20 minutes
Grave Creek- park at Birch Creek Campground to unload. Unlimited trails to ride on in the Ten Lakes Area 20 minutes
West Kootenai 35 minutes
Olney 38 miles 45 minutes
What types of wildlife might we see?
The wildlife in our area is amazing! We have deer, elk, bear, mountain lions, fox, coyotes, and badgers. For those who enjoy bird viewing we have bald eagles, golden eagles, osprey, heron, hawks, blue birds, yellow headed blackbirds, and an abundance of waterfowl.
Is there dangerous wildlife in the area?
We do have lions and tigers and bears- oh my!! Well not the tigers! But yes we do have mountain lion, bears, and other wild animals here in Montana. Everyone must take caution while hiking on our property and in other areas. Bear spray is wise to carry. Since we have a healthy population of birds of prey such as Eagles and Owls, we suggest you leave your Cockapoo at home.
Will my vehicle make it up to The Hideout in the winter?
4 Wheel Drive or All Wheel Drive is a must for winter driving in Montana. We do keep our driveway plowed and sanded when needed during the winter months.
What is the weather like for the various seasons?
Eureka experiences a mild microclimate, notably warmer than the nearby cities. We typically get 1-6 inches of snow during a snowfall and it seems to melt in between storms. Our temperatures can vary day to day during any given season. If you don't like the weather "wait another 30 minutes" is the typical saying around here.
Winter: Beautiful time of year for winter wonderland. We have found that because we are in such a low humid area that even low temperatures do not feel as cold as in more humid areas. Average winter temps: lows 18-27°F to highs 27-39°F. We can get below zero but that is infrequent and rarely lasts more than a day or two. We get 1-6 inches of snow during a snowfall.
Spring: Wonderful time of year for wildflowers and wildlife babies. Average spring temps: lows 27-45°F to highs 49-69°F.
Summer: We are are best known for our long summer days since we are so far north. The sun goes down around 9:45pm and twilight continues until 11: pm. Average summer temps: lows in the 50's and highs 80-100°F.
Fall: Spectacular fall color this time of year. The Larch Trees are a deciduous pine tree. They turn from chartreuse green, to yellow, to gold before they lose their needles. The grasses all turn golden too. Average fall temps: in the 40-50's and highs 70-80°F.
Can I view the Northern Lights?
Yes! Since our guest house is "on top of the world" it offers spectacular views. Here is the link to see when the Northern Lights can be visible: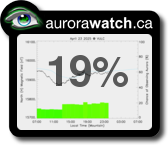 How far is The Hideout to nearby cities?
Eureka is less then 5 miles
Whitefish is 56 miles
Kalispell is 71 miles
How far to the airports?
Glacier Park International Airport is in Kalispell 67 miles
Spokane International Airport in Spokane, WA 228 miles
Calgary International Airport in Alberta Canada 243 miles
Can I cross the border into Canada?
Yes with a valid passport. The Port of Roosville is in Eureka.
is there Wifi available?
Yes we have WiFi and most cell phones do have service on our property. Verizon and Sprint have the best service. At&T works if you face North, plant one foot on the ground, and raise the other foot facing South while extending both hands in the air! Remember we are very close to the Canadian border so please turn off your roaming feature. Otherwise it could cost you hundreds of dollars in roaming charges even though you are not in Canada.
Will the pizza guy deliver?
Yes you can have a pizza delivered from town. Although they won't come all the way to the house they will meet you at the "Y" in the road by the buffalo pasture for the exchange. we suggest you tip well, especially if you plan on ordering from them again!!
end faq